Mandarin Electron - progress of Theremin from Japan
News
2019, Theremin 100th anniversary from the invention!
2019 is the year 100th anniversary from the invention Theremin! We will hold the several events and concerts.
14 Sep. at Kobe: Attempt for the update record of Guinness World Record by Matryomin
15 Sep. at Kobe: Concert
17 Sep. at Yokohama: Concert
More information will be soon...
https://www.mandarinelectron.com/theremin-100/  *in Japanese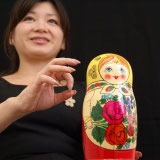 Matryomin is now available on Amazon.com
Now you can purchase Matryomin on Amazon.com.
We were in Russia!
Masami Takeuchi and his students went to Russia in the end of September 2015. Concerts were held in Sankt-Peterburg (20th Sep.) and Moscow (24th Sep.).
You can watch digest video of our concerts.